Adrift a 360°animation
created in Unreal 4
Animated polar bears in a feel-good spot that aren't in a Coke ad! Adrift is a story of a bond between mother and son in an uplifting Christmas-inspired three minute film that also doubled as an excuse for our relentless team to experiment rendering a 360° animation using the Unreal 4 game engine.

The film tells a story of a baby cub being separated from his mother and witnesses a variety of playful animal encounters on a floating piece of ice. All the action is set to a John Williams-style music composition created by ARU Chicago's Tom Haigh.
Creative Director Scott Ownbey remarked, "For the 360° format it was helpful to keep the ever changing environment surrounding one location, as this allowed for a more immersive experience if viewed in VR using the Google Cardboard."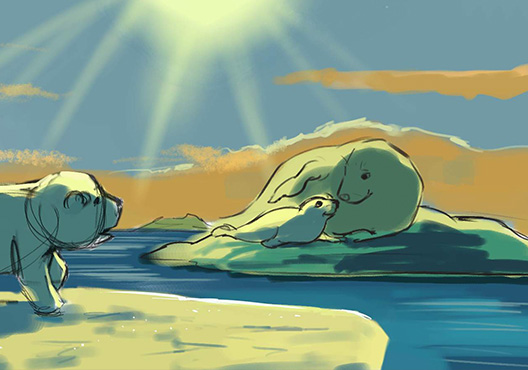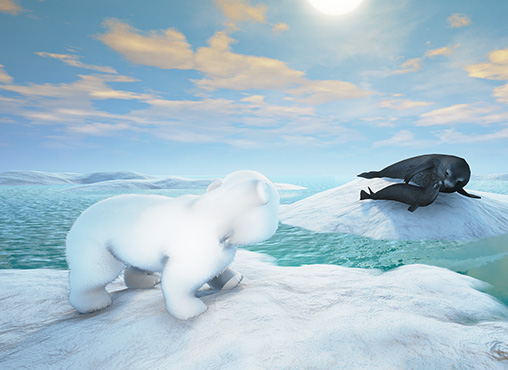 "We have vast experience stitching 360° video footage, and also rendering 360° animation in programs such as Maya, and After effects. This came in handy with this project as we encountered various errors with real time rendering such a vast scene in 360°. The water environment was extremely render intensive—even for UE4. So we approached the project like a standard 360° video rendering 6 different camera views and stitching them together; however we did encounter a bit of artifacting using this solution. Right as we were about to go live the amazingly responsive team at UE4 support gave us a plugin that allowed us to finally export our liquid scenes, seam free along with no artifacting."

AnimaticmediaVR, Technical Director
Angel Nieto

Branded Google cardboard glasses were sent to select clients that allowed them to experience the 360° video in VR. A variety of social media tools encouraged sharing and interaction as the battle for hearts and minds becomes increasingly digital.