We recently produced a 360° video incorporating 3D, illustration, sound design and motion graphics featuring a
Nissan Sentra
. In this quick overview I'll explain how we coordinated all these production elements using a modified version of the traditional storyboard. Overview- In a traditional shooting board we are only concerned with the front view.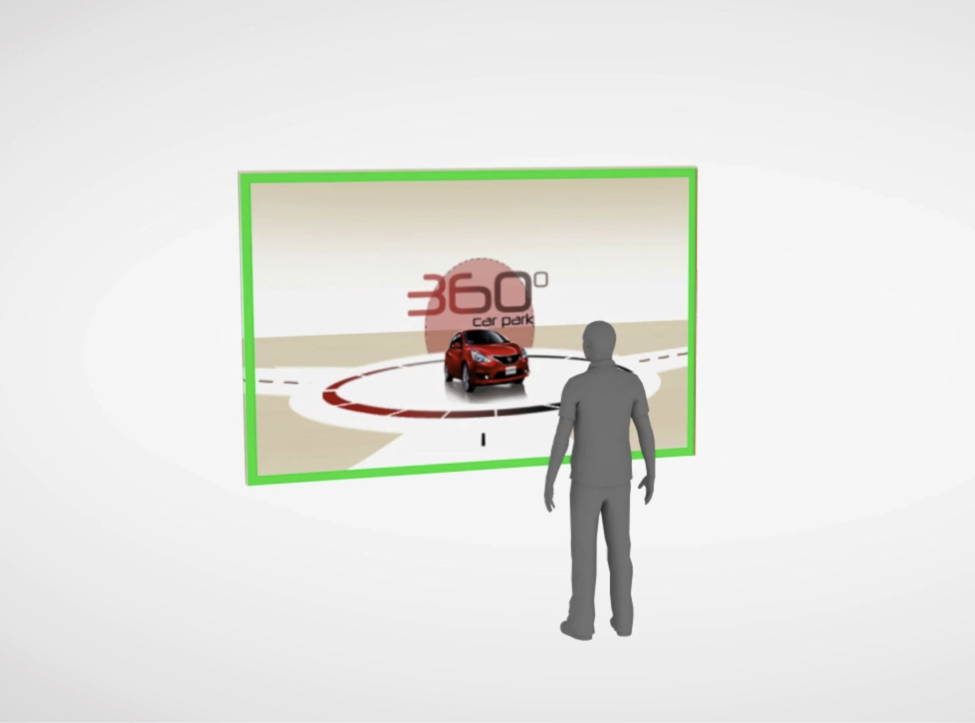 However in a VR or 360° video production we have to consider what the person sees in all forward facing positions and when they turn around. To accommodate for this I divided the forward facing position into 9 frames or zones that completes a front 180° spherical view. This breaks down what the viewer sees when turn their head far left, far right, straight down and directly up— this is simply called the Front 180° view.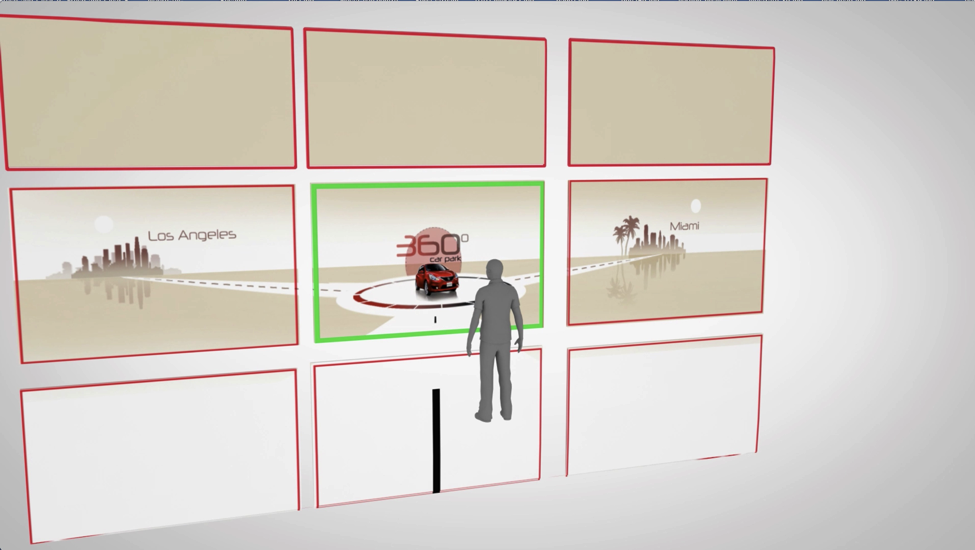 Now that we have all the zones broken down we want to give each zone a name.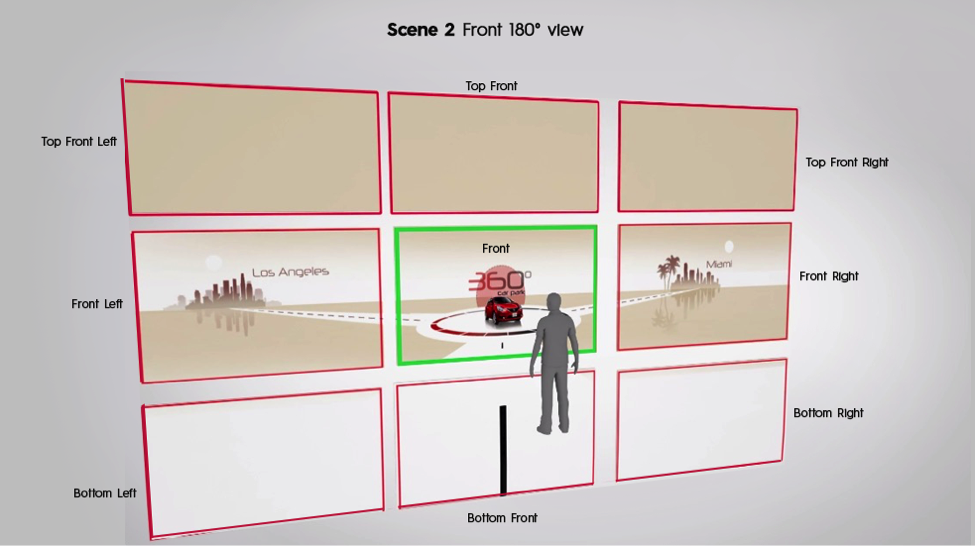 For all the shots behind the viewer we duplicate this strategy and do an additional 9 frames called the Rear 180° view. So each scene can have 2 frames, the front and rear 180° view. Each frame is subdivided into 9 sections. This may seem like a lot of work but in reality it's not, we're simply creating a larger more detailed storyboard frame with a grid that breaks the frame into 9 sections.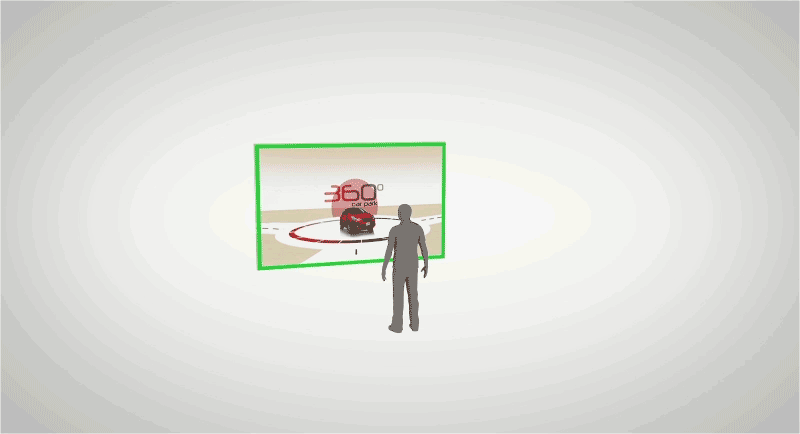 The only additional step is we're adding is a
rear 180° view
frame to go with the
front 180° view
frame So you may be asking yourself- why do this? Let me explain. In this 360° video we did featuring the
Nissan Sentra
we wanted to create a surrealistic graphic environment that combined motion graphics and audio that would
direct the viewer's attention
throughout. Regardless if the viewer was watching on a web browser, a desktop, a mobile device, or wearing a VR head mounted display (HMD) they would have the same experience. The following 360° storyboard frames & notes were a few selected from the production.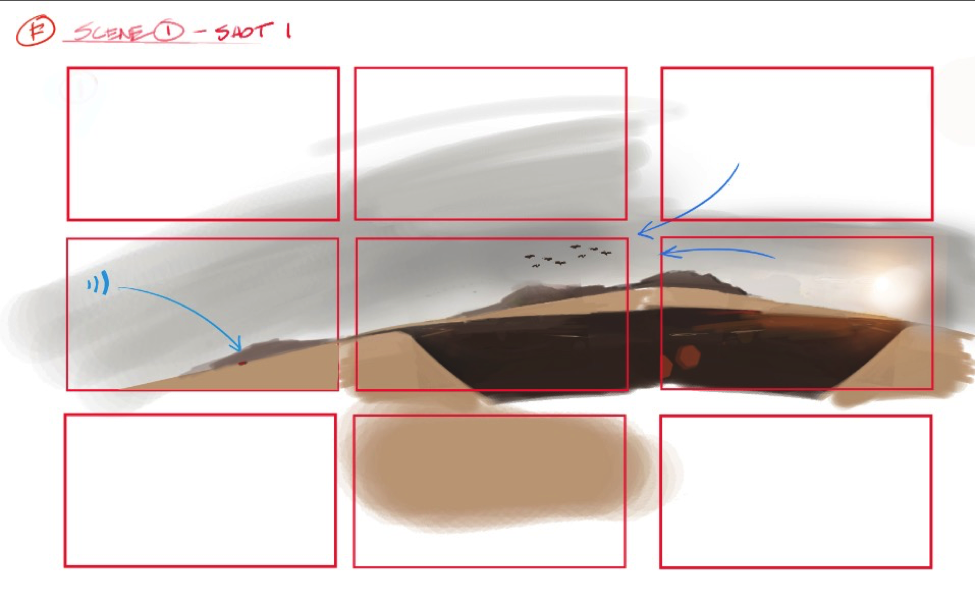 Front | Scene 1> Shot 1. We opened the spot with the POV of standing roadside, in the distance we see and hear birds flying front left. This starts to direct the viewer's attention as we combined this with the sound effect of a car fast approaching originating front left as well.
We now have started a roadmap that the sound engineer and the 3D animators can follow.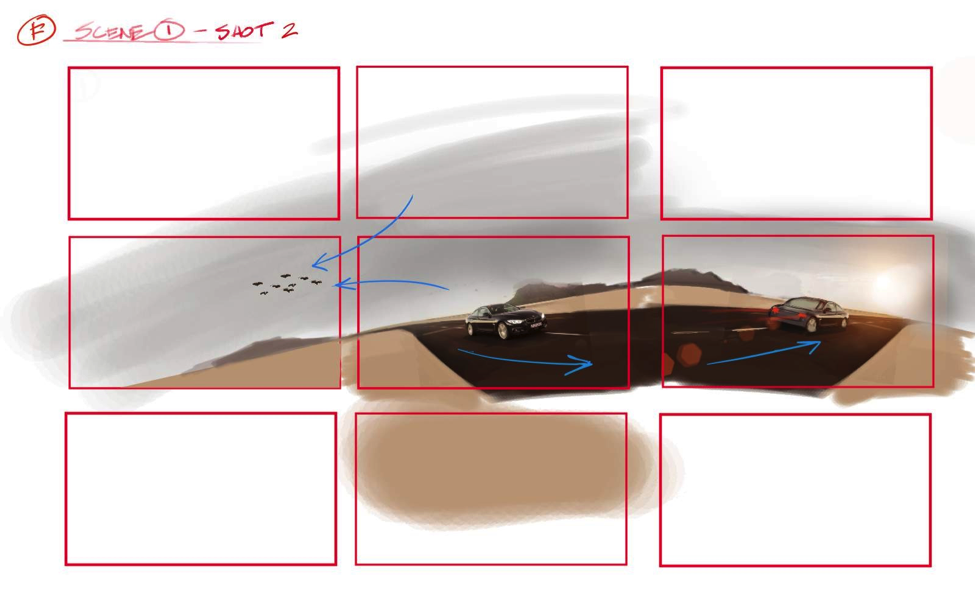 Front | Scene 1> shot 2. Car drives by front view exists front right. Birds exit front left
ARU Chicago's
sound engineer Tom Haigh created a 4 channel ambisonic soundscape for our opening scene and converted the ambisonic sound to binaural audio (ability to hear 360° spherical audio using 2 speakers or headphones) for playback. Using our storyboard system, Tom now knows exactly where the sound effects for the birds and the car originate and the direction they are heading.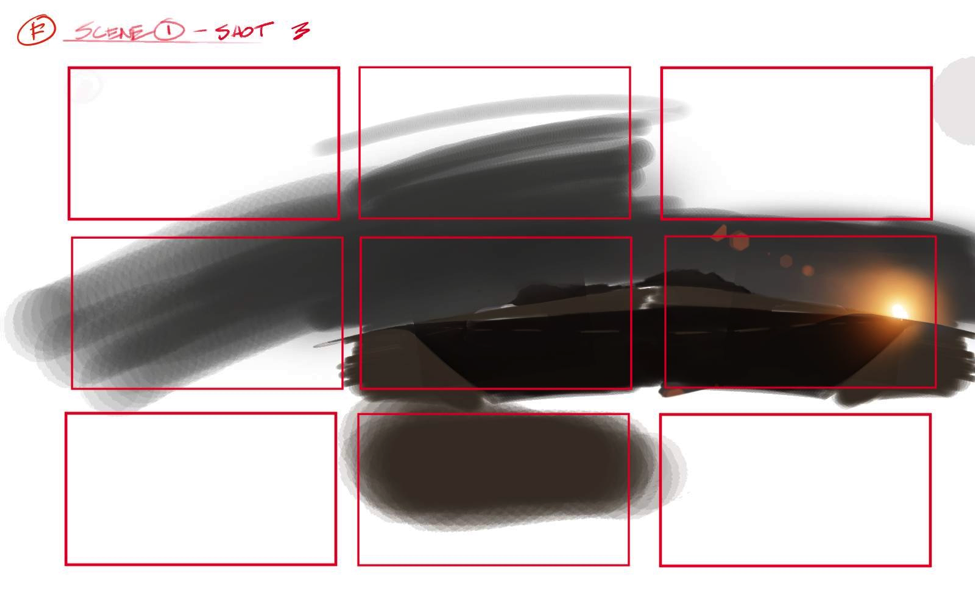 Front | Scene 1> shot 3. Sun sets front right.
Regardless if they're watching on their iPhone,desktop or HMD, if our cues have hit their marks the viewer should now be looking
front right
.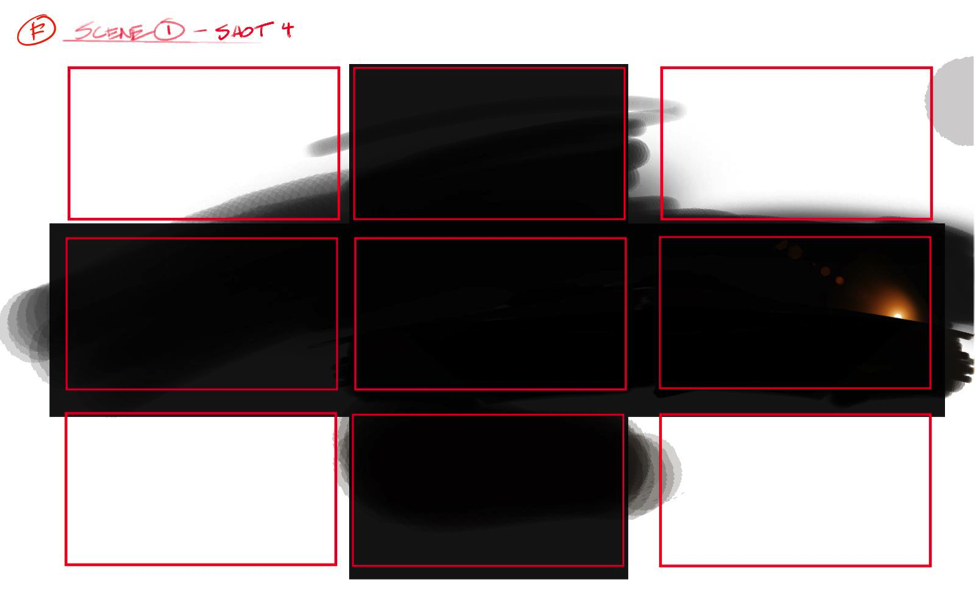 Front | Scene 1> shot 4. Sun disappears as we see last hint of lens flare front right. Add sound effect to emphasis front right.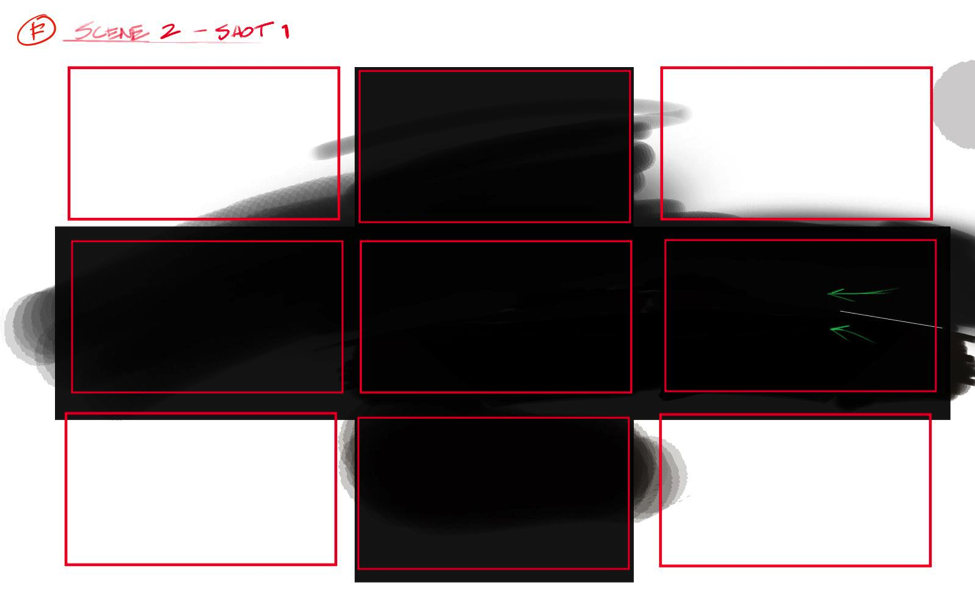 Front | Scene 2 > shot 1. A white thin hairline forms and moves front right along the horizon line from the previous scene towards the front left. Sound effect to emphasis movement of line.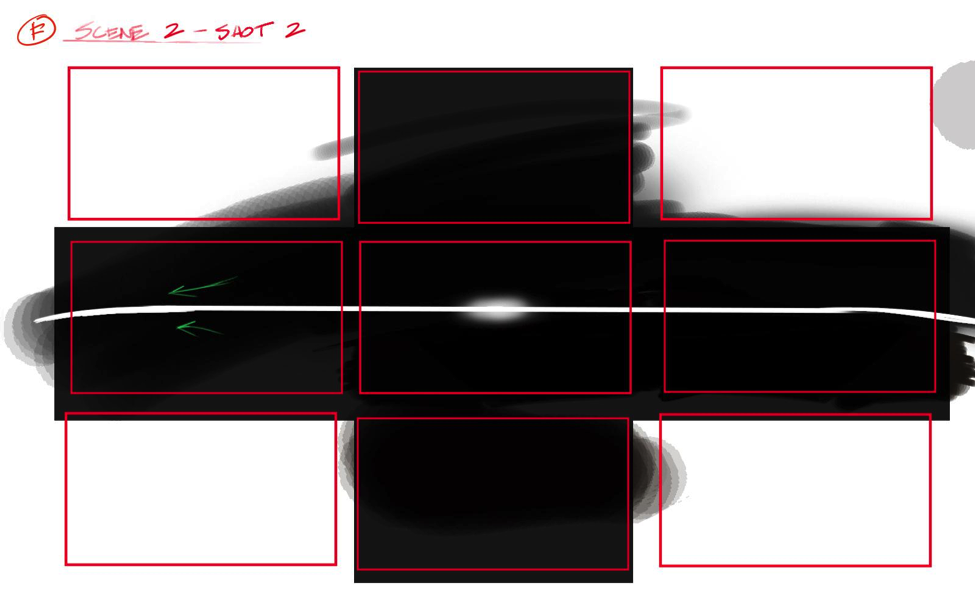 Front | Scene 2 > shot 2. The white line starts to widen as a glow forms in the front frame. Add audio effect to direct the viewer's attention to stop in the front frame. New upbeat music gets louder. Line continues along the horizon line from the previous scene towards rear front.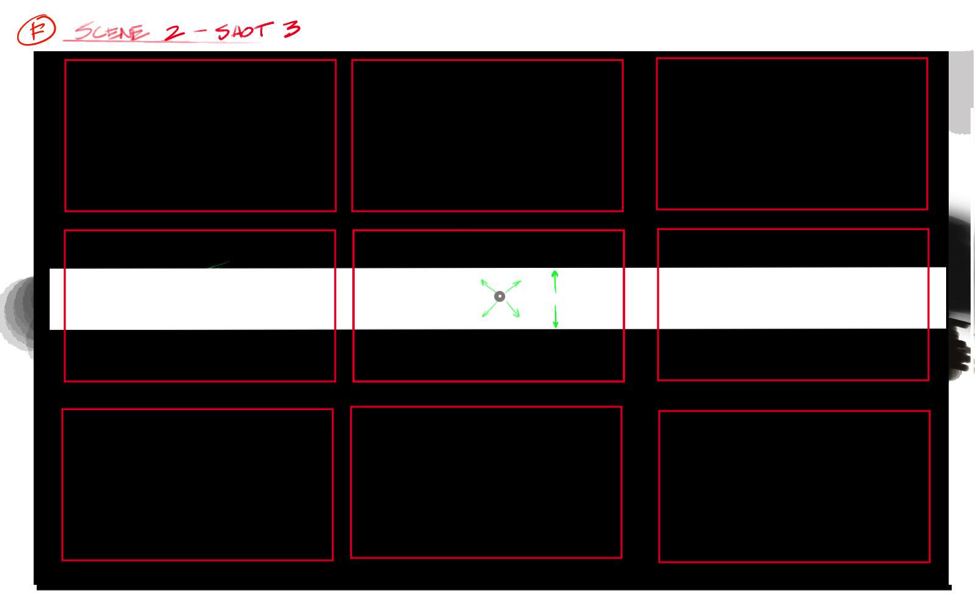 Front | Scene 2> shot 3. White line widens to continue move to reveal next scene. Dot appears to drop and expand in front frame.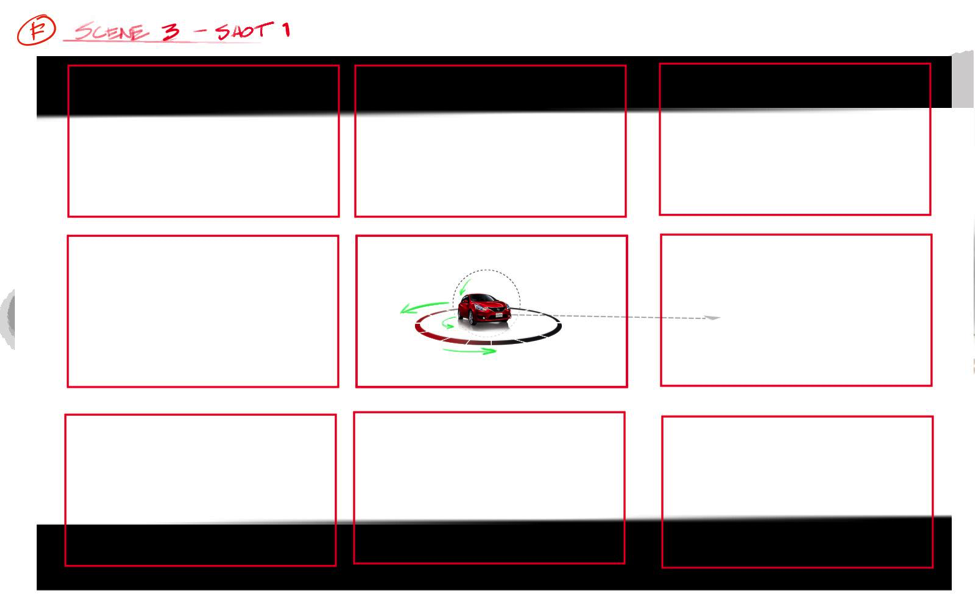 Front | Scene 3> shot 1. White line wipes out of view from on the front top and front bottom frames. Dot drop expands to reveal spinning 3d Nissan Sentra in front frame as grey dotted line emits from underneath car towards the front right frame.
Despite dramatic shifts in video production technology, storytelling basics remain the same. Whether your a amateur or a professional, I hope by sharing these notes about our 360° storyboard technique will be able to help you on your next VR or 360° production.